In this guide we aim to illuminate the choice of Email templates at your fingertips
When you're creating an Email Campaign you have a choice of template types in Step 2:
1) System Templates:
These are the most popular and use the latest editor:
Functionality includes forward to a friend, link to documents and the social tag (%Social%) which brings through your social icons into your email campaign text area and have your social URL links behind them. These templates are tightly structured and provide you with very reliable delivery across the wide range of email clients which exist today. You can edit all the sections of text and of course you can add in your images into the pre-set image boxes.(always worth gauging the size of those image boxes so that you fill them with an appropriate image size and ratio)
Many of these System Templates have the Add New Article function which either adds an article including a text box and an image box (e.g. Template 2: Colourful) or adds an article with solely a text box.
System templates are provided by us free-of-charge and we are keen to keep adding to the range of these templates so that you have a widening choice of templates to use to support your Marketing strategy.
2) Free-Form Templates:
Free-Form Templates are officially deprecated but we are still giving you the opportunity to create them either by loading your own html into the back end (by clicking on the Source button in the editor) or by adding content into the front end. If you're designing from the front end we strongly advise you to insert a table,(with maximum width of 600px) within which you then load your content. In this way you have a stronger vehicle for delivery to avoid distortions when sent out to email clients.
Free-Form templates use the previous version editor so don't have some of the latest features e.g. link to Documents.
With your images you load in, you need to be mindful of ensuring that your image sizes are appropriate for the size (especially the width) of your campaign. We recommend your template width is no greater than 600px to ensure that recipients don't have to scroll left/right to read your campaign. So for example if you wanted an image size to cover half the width of your campaign, then it would be good to re-size your image to about 300px before you load it into the template. If you have created a suitable table at the outset, then this can help you to contain your images.
Free-Form templates do give you flexibility when it comes to structure and size but just be mindful of the need for stability when your campaign is delivered.
If you are not at all confident with html design, then it is probably safer to keep to our System Templates which are robust in nature and provide you with reliability in delivery.
The route to create a Free-Form template is Email > Email Templates > Add New Free-Form Template
3) Editor Templates
With Editor Templates you have the opportunity to load in your own pre-prepared html code, images and screenshot.
As a minimum you need to your own html template file. Very often you will also have an images zip file. If you also have a screenshot file of your finished template you can add this in too which then makes it very clear which template is which (as shown above) in your list of Editor templates.
The route to creating an Editor template is Email> Email Templates > Add New Editor Template: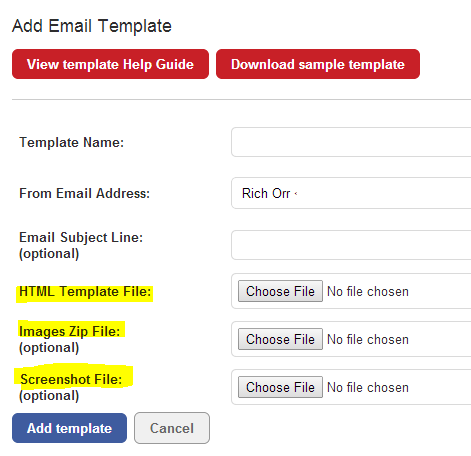 The View template Help Guide button gives you very useful html tags which you can insert into your html before you load the html file in.
You need to know that Editor Templates are relatively fixed in nature, when you have created them, so that when you then create an Email campaign using them you do not have an editor tool-bar at the top with which to make further content changes. That being said we can design editor templates (bespoke work) with built in edit functions within, for text and image editing.
If you would like us to quote you for making or tweaking a template then just let us know.
So the above 3 Email Template types are provided for your choice. There is also one different opportunity for you to apply your html skills and that is when creating an Email Campaign you also have the option to insert your own Custom html into the campaign:
You need to have prepared your html beforehand and then you can copy/paste your html code in to the specific campaign.
Again it is worth reading through the template Help Guide which is accessible via the View template Help Guide button. This will give you a range of html tags (and explanations) which you can apply within your html code.
4) Drag & Drop Email Templates
To view our latest support video click here to find out more about our responsive Drag & Drop Email Editor