This is a very convenient way to send email campaigns to Primary contacts linked to Organisations.
Make sure that you have linked up the relevant contacts with the organisation and made them Primary. When importing organisations followed by importing contacts the first time a contact is linked up with an organisation should make that contact the Primary one by default. For all others you need to click on the Make Primary button from the Contact record:

and then the Primary one will show as made Primary from the Contact record:

N.B. Each contact can only have 1 linked Organisation which is their Primary Organisation
Then when building your email campaign you will see the Send to Organisation tab when selecting recipients: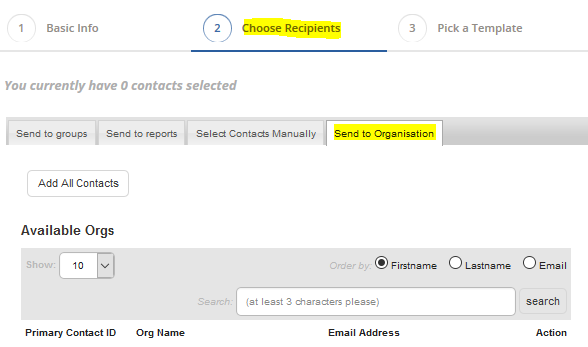 Search for the available Organisations, which then finds the Primary linked Contacts automatically for you.
Click on the Add link within the listed contacts and this will place them over to the right of your screen and they will show as Primary Contact for org selected for this campaign