Whilst there are many benefits of using a CRM system, we have chosen these 5 as our 'top 5 reasons to adopt a CRM system today!'
1) Helps you become more organised
Having a CRM system enables you to keep all of your information 'under one roof' so to speak! This ranges from contact details to task reminders to email marketing! With many CRM systems, this will all be included, meaning you can be more organised.
2) Helps you close deals quicker
Another great aspect of many CRM systems is that they generally include a sales pipeline! So you can move the prospect along different stages of the pipeline depending on the strength of your relationship with them. The ability to auto set reminders also speeds up the conversion process as you will never forget to follow up with them again.
3) Improves call centre efficiency
As call centre agents gain access to callers details in a quicker manner, answering their questions becomes a lot easier. It's also far easier for high levels of customer satisfaction to be achieved when support is combined with CRM.
4) Centralises your data!
As stated above, having a CRM can help you keep all of your data in one place, for example in InTouch, we have a 'contacts' module whereby you can import your entire database so it's all accessible in one place. This makes life far easier and even more so thanks to the 'advanced search' function we have along with the standard search function.
5) Helps build strong relationships
Most CRM systems offer the ability to set up automated campaigns, this is a great way to build lasting relationships as you could for example set up an automated birthday email which gets sent to everyone in that campaign on their respective birthdays! Little things like this only strengthen relationships and thus make the person easier to sell too.
Here is our infographic on it also!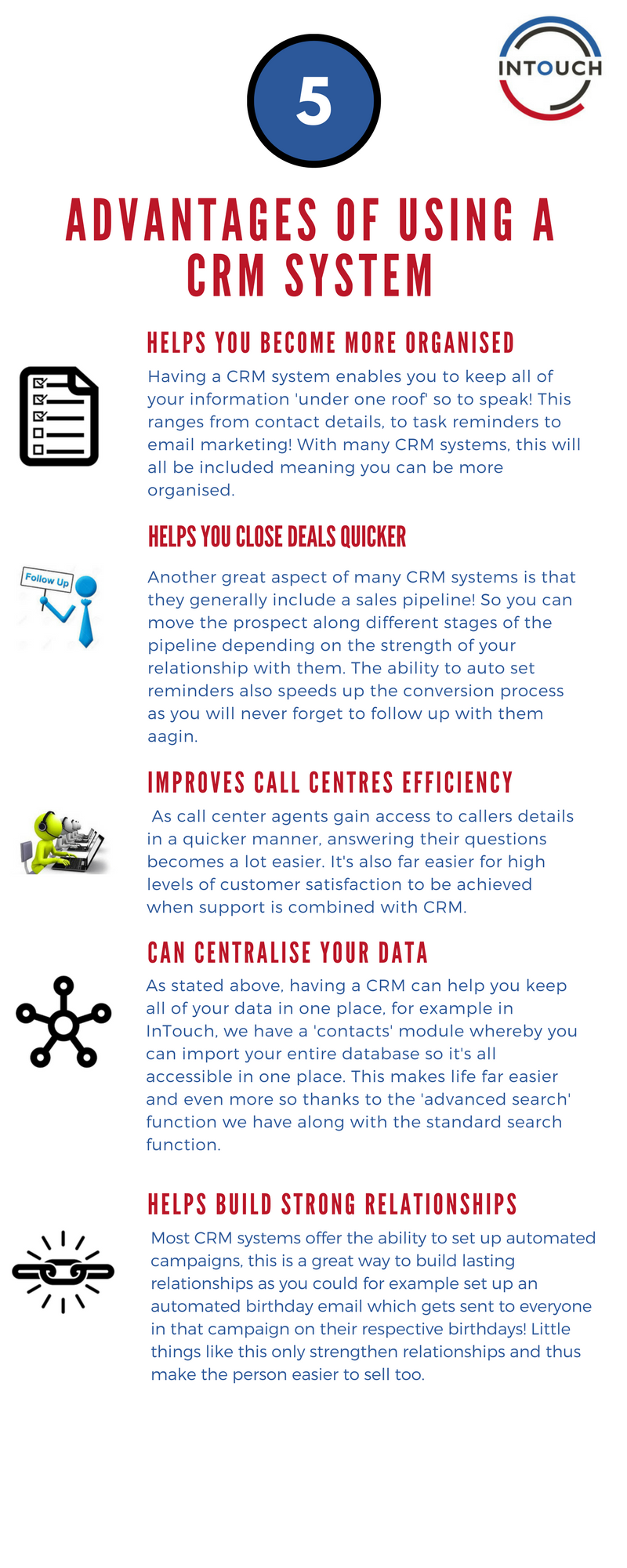 If you have any questions, please let us know.