As you use the system and you start to add more contacts and more groups, there might come a time where you want to do a bit of house keeping and merge some of the groups together.
This can be easily done within the system by using the merge group function (not to be confused with the merge contacts function!). So to kick this group merge off, you first need to get to the group section.

Groups can be found within the Contact Section which is located on the left hand menu. Once Contacts has been clicked you will be taken to the contacts page, this shows all of the people who you have added in via the add contacts, dataload, sign up forms and even the add a contact via your social networks!
From here you need to click on the Groups tab. Click on it to load the groups

Now that you are in the Group section, you will have an overview of all of your groups, with the option to add new ones as well as deleting groups, view group and archive option on the screen against each group (Remember to use this option wisely!)
To Merge and Exclude Groups

You will also notice the drag and drop option to right of the screen to "Merge Groups"
This will allow you to merge and exclude a maximum of three groups.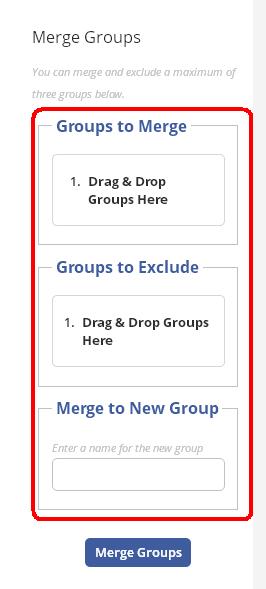 Click on the Groups that you would like to merge and drag and drop in to the Groups to Merge part - this is important as you are telling the system which groups you want to bring together in order to create a new merged group (as shown below).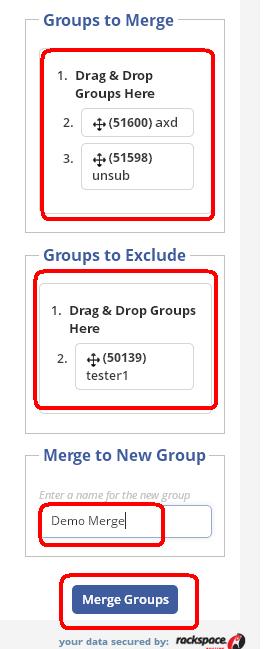 Next up, all you need to do is enter a new Group name and press 'Merge Groups' - this is important as you are telling the system which groups you want to merge together.
Following this, the same applies with excluding groups. All you have to do is select to EXCLUDE groups from this. This means that any contacts who appear within these EXCLUDED groups, will not be added into the new group/existing group if they appear in any of the groups that you've select to INCLUDE
Sounds a little complicated but it is a great way of saying "I want to communicate with these people but not if they are part of these groups"
Once you've made your selection, all you have to do is Enter a Name and click Merge Groups!