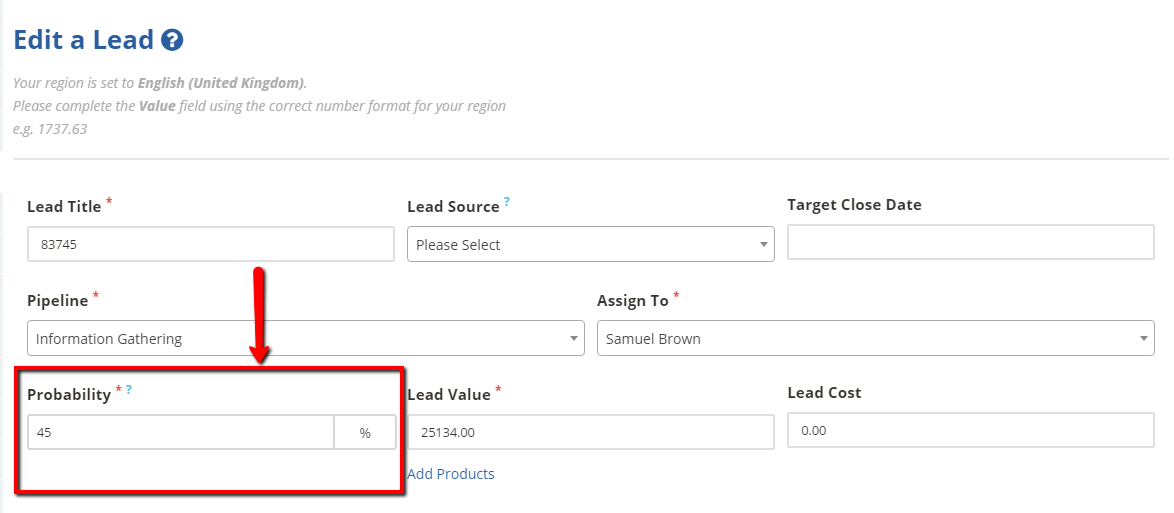 So, you have sent a great promotional email to a prospective client and they have replied to say they are interested in talking to you! Fantastic, this is what good sales and marketing is about.
So how can InTouch help you turn this potential enquiry into money in your bank account?
The leads and sales area of InTouch allows you to record details down of the potential client and by using the Lead Status you can measure the likelihood of the potential customer becoming an actual customer.
The system provides a place for you to record how likely you think the leads is to close and we believe it is always good business practice to separate your potential business around 3 different categories.
• 25% - Opportunity
– A lead probability of 25% is a lead or someone who could be interested in buying your product or service. It is the first stage of a potential new client. This opportunity will need someone to contact them to understand more about their plans and understand what may need to happen to get them to feel more assured about becoming a customer. Maybe they would benefit from hearing some testimonials from other customers? Maybe they need some further information to be sent to them about your product? Regardless of this, this is a 'potential customer' that you need to work a little harder to get further down your sales funnel.
• 50% - Prospect
– So, you have spoken to the prospect and it seems like they are keen on your product/service. You may have sent them a brochure or a proposal and the customer has given some initial buying signals such as 'this looks good' or 'your price is really competitive and someone I know has recommended you'. At this stage, we would look to change the Lead Probability from 25% to 50%. The 50% stage is not yet a guarantee but you have moved the prospect forward and they are seriously considering buying your product. To mark a lead as 50% we would suggest that the customer has an agreed budget to buy the service and that they have set a timeline for when a decision will be made. Record the date that they believe they will make a decision (within the expected close field) and you may have further tasks to complete to convince the prospect that they should do business with you.
• 75% - Potential
– So, this is an exciting stage in any potential relationship with a prospect! You have spoken to them, provided the prospect with information and they have given you some excellent buying signals! They have indicated they are very keen on your company and feel that they will go with your product once they get a few other aspects completed. 75% is not a confirmed sale but putting a lead to this status means you are pretty sure that the prospect will choose you. This is a great stage in business but it's also a nervous one as getting customers from 75% to 100% and closed is the most essential aspect of all new business development. If you have recorded the prospect as a 75% and then it doesn't become a customer, you may be very shocked as a business owner and you might have some questions to answer to your Sales Manager as a salesperson!
• 100% - Sale
– Fantastic news! You have brought a new customer on board. This is great news and moving a lead to a 100% sale means you have a confirmed order or signature. You may even have the money in the bank already. The key thing now is to ensure you deliver a great service and get the customer to continually buy from you! You have done the hard work and so hopefully you can now build a long term and fruitful relationship with this customer.
• 0% - Lost
– So this one is self-explanatory. The prospect has decided not buy your product. It might be worth asking them questions as to why they have made their choice. If you had made the prospect a 75% then re-look at the lead yourself. What buying signals did you get wrong? The key thing here is recording the reason for why they didn't become a customer and then reviewing this within your business at the end of the month or quarter
If you assign each prospect a 'lead status' then it will allow you on a weekly, monthly basis to review the potential business you have and get real clarity on what potential business you are close to making real business. Use InTouch tasks and events to prompt yourself to follow up or send information to move a prospect through the stages. Adding your prospects to Automated Email campaigns can sometimes be an easy way for you to market/prompt them about your company without you having to do anything.