The Overview is a great part of the email reporting section as it shows you an analysis of all of the major statistics from that particular campaign. It gives you a glimpse in to how success it was and who an insight in to the actions that were triggered by your email.
Your attention will inevitably be focused on the graph immediately- this shows you the deliverability of your campaign, so how many received the email, opened it and clicked on it as well as how many unsubscribed or complained and those who didn't open it.

Although the graph shows you a summary of the major statistics of your email campaign, you have other vital information that you are able to look through as well (as shown below).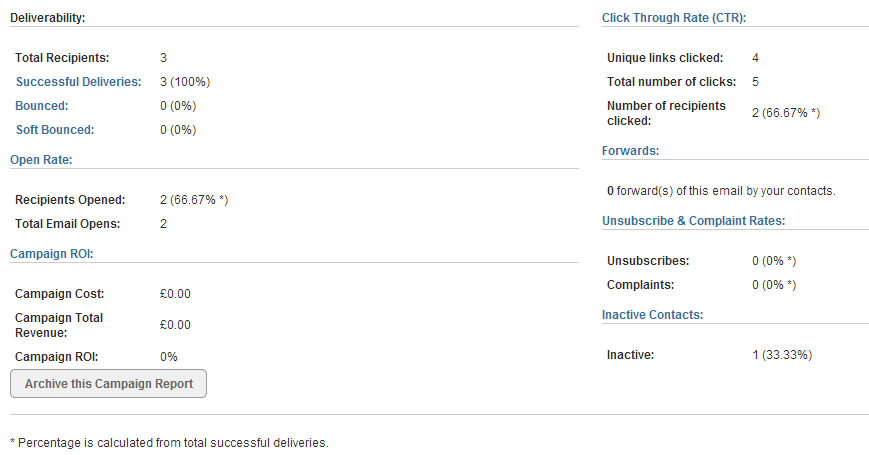 Here's a quick list and their definitions:-
| | |
| --- | --- |
| Deliverability - This shows the success rate of the emails being delivered to your contacts; so you can see how many were successful or opened and which sort of bounce it was. | Click Through Rate (CTR) - See how many individuals clicked on the links in your email. |
| Open Rate - Want to know exactly how many people opened the email, this is where you will see it. It is important to note, that the open rate is dependent on the links being clicked or the images being downloaded. | Forwards - If you added a forward tag in the email, this will show you how many contacts used that to forward on to other people. |
| Campaign ROI - This calculates the Return on Investment if you have integrated with Google Analytics. | Unsubscribed & Complaints Rates - This gives you a percentage of who may have unsubscribed from your email and who may have flagged the email as spam (Complaints). |
| Archive this Campaign - If you no longer need to review this email, you are able to archive it. | Inactive Contacts - If you want to know how many of your contacts haven't done anything with your email or even opened it, this is where you will see the figures. |