Intouch's dataloading module is very powerful and can save you many hours of manual work, so here's some practical hints to enable you to make the most of Business dataloads for importing your Organisations…
You can access Business dataloading from Contacts > Organisations > Import Organisations: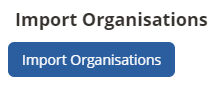 Import Organisations button is always underneath the Import Contacts button.
Another way to cross-check that you're in the correct one is that on the drop-down list of fields (on field matching screen) you will see the Name field within the Business dataload at the top of the list, to which you match your Company Name field. Not to be confused with First Name and Last Name fields which are only in Contact imports.
Here are the Business dataload fields which are already in our system by default: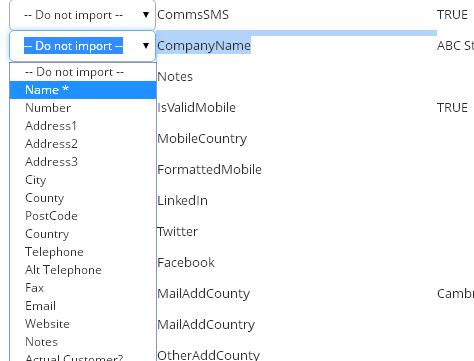 It is essential that you match your Company Name field to the Name field at the top. Other fields which are popular to link up are Telephone, Address fields and Website.
If you are planning to link up your Contacts with your imported Organisations then remember to link up that Company Name field in your file with Company field in your Import Contacts and that you tick the box at the bottom "Link to Organisation"

It would be worth reading our Import Contacts Guide, before commencing your Business dataload.
It is worthy of note that any additional Organisation Custom Fields which you create (Contacts > Custom Fields) will be visible on the drop-down list of fields when you action a Business dataload, underneath the standard fields.
(Make sure that the .csv file you are using for your Business dataload only has one entry line per Company, otherwise you may import duplicate entries / organisations by mistake. see note below). You may have to copy/paste your company entry lines onto a fresh spreadsheet for your Business dataload?
Once you have imported your Businesses you may well be using the same .csv file for importing your Contacts. This is absolutely fine - just make sure that you match the appropriate fields to the drop-down menu of fields on the left of your screen, and of course to tick the little box at the bottom: Link to Organisation
An important aspect to be aware of is try to be vigilant not to create duplicate Organisations. Whereas in Contact dataloads there is a Duplicate processing section (within which you have the option to action an Update dataload), in Business dataloads there is not. So make sure your Business dataloads sequence is well thought out and you only have one entry line per company on your import file.